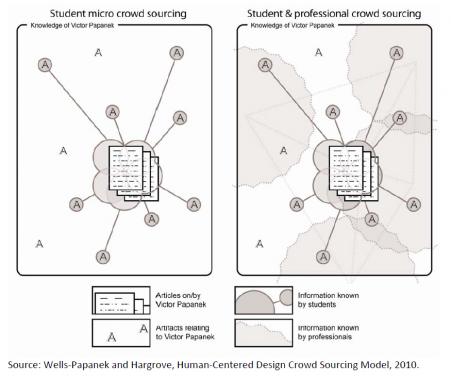 Victor Papanek Going Forward © 2010

Human‐Centered Design Curriculum Action Research Pilot Study

Doris Wells‐Papanek, IDSA | Tailored Learning Tools
Walter Hargrove, IDSA | Art Institute of Portland

Introduction

Throughout the 2009‐2010 school year, Doris Wells‐Papanek, M.Ed. and Walter Hargrove, M.I.D.
collaborated on an action research pilot study focused on developing a human‐centered design
curriculum. The purpose of the study is to gain a better understanding of the relevance and
influence of Victor Papanek's past work on human‐centered design today. Primary references of
Victor Papanek's research include an article written by Papanek in 1988 for MIT Press Journals,
Design Issues entitled, "The Future Isn't What It Used to Be" as well as an unpublished video
recorded lecture Papanek delivered in 1992 at Apple Computer entitled, "Microbes in the
Tower." Going forward into the present, additional references include highlights of perceptions,
insights and experiences from two human‐centered design practitioner interviews along with
human‐centered teaching and learning practices grounded in current applied research on brainbased
teaching and student‐directed learning using a flexible instructional approach based on
student learning needs. The report concludes with a description of a do‐it‐yourself (DIY) humancentered
and student‐directed learning process designed for a progression of assignments in an
experimental History of Industrial Design class. Initial evidence of the learning experimentation
indicates an 81 percent increase in levels of student engagement. The teaching and learning
methodology has successfully been applied and tested in various types of classes and
demonstrates the capacity necessary to expand into a complete design curriculum pedagogy.
in