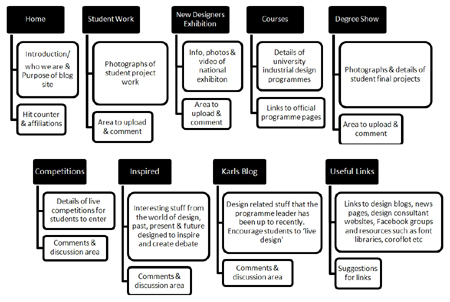 Social Design Network – The Integration of Social Software in Industrial Design Education
Karl Hurn
Loughborough Design School
Loughborough University, United Kingdom
Abstract
It is difficult to ignore the impact that Web 2.0 and the subsequent social software revolution has had on society in general and young people in particular. Information is exchanged and interpreted so fast and in ways that were barely imaginable 10 years ago. Meanwhile it could be argued that universities are struggling to keep up with clunky intranet systems and the odd dabble into this new world for marketing purposes.

The aim of this paper was to first develop a greater understanding of the use of social software by students in industrial design education and the impact of blogs, wiki's, Facebook groups, Flickr images, Myspace pages, Tweets and You Tube video posts on their learning processes. The research goes further to explain how these technologies could be better integrated into higher education and current pedagogic practices in order to provide an enhanced learning experience for the student industrial designer.

The paper then sights examples of the successful application of social software within the writer's institution and uses this information to begin to formulate the design for a blog and information website for the institutions industrial design programs. Key stakeholders, including university marketing directors, IT managers, academics and the student body were interviewed and asked to complete questionnaires so that qualitative and quantitative data could be analyzed. Further, current institution e-learning software available to industrial design students was investigated and the effect this has had thus far on current teaching practices.

The research includes an analysis of the proposed blog site for the institutions programs; its structure is broken down in respect to the previous research undertaken.

The paper concludes with a description of the perceived validity and possible future developments for the blog and social software as a whole in the industrial design higher education sector.