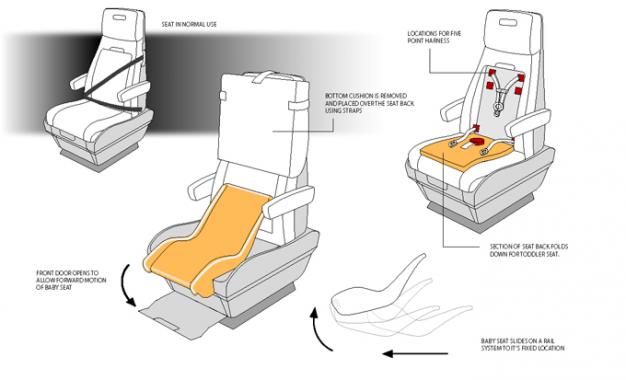 An Innovative Design Solution for Emergency Vehicles
Dosun Shin, IDSA, Arizona State University
Introduction
It is impossible to imagine that all manufactured products are completely safe. In addition, making products absolutely safe is not always easy. In order to protect consumers from unsafe products, federal and state law assigns specific duties to manufacturers, distributors, retailers, and service establishments [1]. Safety is the most fundamental issue that both designers and engineers must address when developing products. There are certain problems and strict regulations that are unique to the process of designing life-critical products and I contend that the best way to tackle them is through a multidisciplinary team that is able to incorporate perspectives, knowledge, and attitudes from several significant stakeholders in the design process.
In December of 2006, the Department of Industrial Design at Arizona State University in the US was contacted by a group of local entrepreneurs who proposed a collaborative project to design a safety seat product for children that would be used in emergency vehicles such as ambulances and fire trucks. The initial project parameters and time schedule provided to the faculty were brief and lacked a clear description of the details required to begin a new product development process (i.e., engineering requirements, manufacturing guidelines, business plan, etc.). The entrepreneurs were operating on a tight timeline with a goal of product launch within 6 months. In addition to the challenge of having the new product designed and manufactured within that time frame, the assembled team also had to address the missing project brief elements previously described. The schedule for the project was outlined by the faculty project leader and consequently approved by the entrepreneurs in the contract document.
The industrial design team was headed by an assistant professor with 7 years of experience in product development and expertise in assistive device design. The team also included two senior level industrial design students. The entrepreneur partners included an independent business consultant with over 15 years of executive management experience in a variety of industries, the head of Emergency Medical Equipment Research and Development for the City of Phoenix Fire Department, with over 22 years of emergency medical experience, and a captain on the Community Involvement Division of the Phoenix Fire Department with over 18 years of experience. In assembling this team, our goal was to ensure that all stakeholder needs were addressed throughout the design process, making the product manufacturable, aesthetically appealing, and ergonomically comfortable. This multidisciplinary team was able to collectively transform a simple idea into a formidable product that revolutionizes safety for children in emergency transportation.
Students brought fresh ideas and creative input, while the firefighters contributed critical knowledge about safety and regulations to this design project. In addition, the process of moving a project from preliminary ideas to finished product provided benefits to all partners—students gained valuable real world experience, the entrepreneurial firm got a close look at the inner workings of new product development, and the firefighters were able to play an active role in the design of a product that they will use.
In order to address the challenges inherent when developing products that can save people's lives, it is wise to assemble a multidisciplinary team. The unique problems involved in designing transportation products for children required a team that was able to generate diverse perspectives and knowledge, which could then be collectively used to advance a design, informed by several significant stakeholders in the design process. Through a discussion of how this specific project progressed, I intend to illustrate valuable lessons that may be applied in other new product development contexts, particularly those that involve industry/academia partnerships and multidisciplinary teams.