A central highlight of 2011's Design Theater presentations was IDSA Housewares Section's panel discussion:
Realizing Good Intentions Through Product Design
. Organized by IDSA's Housewares Section Chair
Marianne Grisdale
and moderated by Eastman Chemical Company's Director of Design Industry Programs and
IDSA Personal Recognition Award
winner Gaylon White, the panel consisted of the diverse panel of:
Often discussions about design for sustainability fall short or repeat themselves by focusing around worn topics or vague social initiatives. This unique and informative panel discussion gave perspective about the business challenges in creating a 'green product' and also examined how we can take Sustainable Design beyond limited acts like recycling.

Charles Austen Angell summarized the biggest challenges we face in creating greener products is deciding what can we agree on and what can we act upon. Otherwise "The more complex it makes, the longer it takes, the harder it is to buy in". He suggests that the focus should be on:
Materials

Logistics

Use Attitudes

Business Ecosystem
Both Craig Sampson and Angell emphasized the advantage of partnering with material supply companies as they allow you to take advantage of the information available to get a much clearer understanding of the source of materials. This can then be used to analyze the environmental impact of consuming natural resources during production to the impact it will have downstream. Jason Foster illustrated this example when discussing the history of material selection for the Replenish bottle and the aide they received by Eastman Chemicals in understanding the impact of materials chosen to create their product and maintain their corporate vision. The end result being a bottle that was made of 100% PET material that could be completely recycled (though reuse being the primary criteria). In addition, Gaylon White and Austen Angell had just returned from conducting a full-scale,
two week pilot test in Kenya
of the
HydroPack
. Their collaboration with
HTI
created a
disaster relief hydration system
that utilizes the functionality of Eastman's
cellulosic material technology
. This emergency aid product would not have been created without the partnership between material innovation (Eastman Chemical Co.) and design innovation (Modern Edge).
Mark Fasterbend pointed out that the design of the actual product is a separate problem from the realities of bringing that product to market. From an engineering, material sourcing and manufacturing perspective, it is clear that these 'green measures' must come at a cost that is competitive. He noted while this is achievable, it requires both internal advocacy and creativity.
Sampson noted that one of the foremost issues faced in the move towards creating environmentally responsible products is defining and explaining what Sustainability is. Questioning "our behavior and actions.. is what were are doing something we can continue to do?" becomes muddled because "We all want to make products that are better, but better for whom?"
Foster's account of a 'smarter bottle' to market illustrates Angell's four components of sustainable design focus (Materials, Logistics, Use Attitudes, Business Ecosystem) and tells a great story about the approaches and drive for innovation that is required to design truly environmentally responsible products. While focused primarily on functionality, durability as well as resource minimization, he highlighted the challenge of designing for durability: "Going against sixty years of manufacturing that does not build ...that way… Before this sort of plastic revolution... we used to make tools. We used to design things that lasted as long as they could."
By unlocking new approaches that were not obvious, Replenish began to uncover value in a product previously undiscovered. They realized their goal to design for reuse by design a product as a tool instead of a disposable product. By approaching manufacturing and the design process this way "we created something we didn't know we could do". In addition, the Replenish Reusable Bottle Currently Replenish is the only Gold Certified cleaner by the
MBDC
. The system also received
Cradle to Cradle® Certification – Silver
for its reusable concentrate mixing and delivery system.
Sampson notes that many companies focus on making products recyclable, but in the hierarchy of 'Reduce, Reuse, Recycle', recycling is supposed to be the last resort. Sampson noted that the key to Duribility can be found by
Designing something good enough that when a consumer replaces the product (such as pyrex glassware) they can pass the old one on to another consumer.

Visualizing aesthetic design choices that perpetuate longevity (i.e. create timeless products). Design products that will hold their relevance 20 years down the road.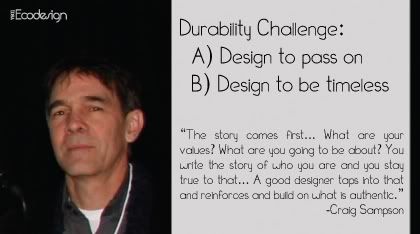 Fasterbend noted that a component of durability is usability and interface and quality. Creating products that are easy to use, easy to understand and easy to build reduces return rates (and thereby disposal rates) from dissatisfied consumers. "The most effective thing we can do is address the user's concerns and their misperceptions about the product, because those get thrown out right away". Angell emphasized the thought of designing for quality and durability "I don't think there's any way to hurt the cause of Sustainability more than to put out bad products. Because you cement in the mind of the consumer that 'Green' is associated with compromise".
Furthermore, sustainable and socially responsible decisions can affect the image of a brand. Foster emphasized that the struggle to create a product that meets social criteria defines your brand much more effectively than a marketing campaign can manufacture. The struggle to create products with real environmental and social benefits defines your company, and therefore brand's authenticity. This authenticity cuts through green-washing and false advertising. Both Sampson and Fasterbend noted that one of the industry problems that has surfaced has been a manufacturer promoting a feature or performance that was already inherent and disingenuously labeling it as 'Green' and adds to consumer skepticism.
As illustrated by the panel, environmental and social sustainability in all aspects of a company's process can be a key to the success of products and thereby business in the near future. Fasterbend conveyed that by taking a broader look at the entire process beyond materials and manufacturing, Hometics found even more green opportunities. "We actually went back in product design and changed it, because even at the early stages with [two-dimensional] sketches we were looking at how many we could fit into a 40-foot container. We realized that if we just made it a half-inch shorter, we could get a whole other layer into the container... It makes a difference because it's the corporate philosophy... its the vision for your company, who do you want to be? ...You have to be thinking of these issues from the very start because once the product is designed, it's over. You are not going to go change it if you don't think about your packaging until three months later."
Altogether the scheduled one-hour program offered an enthusiastic two hour discussion that not only provided value and food for thought but illustrated how the topic of real ecologically, economically and socially sustainable design practices need to be explored at future industry functions.