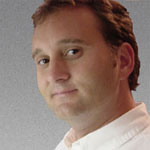 Entrepreneurial Careers for Next-Gen Industrial Designers
Steven Doehler, IDSA | University of Cincinnati

For the past several years entry-level industrial design has had to adapt to major changes in our field. In the late 80's we converted to CAD and digital imaging software. With that has come the necessity to continually learn new software and their updates. With recent evolutions in international outsourcing and advancements in communication technology there is a greater demand for all of us to think more globally. Devices such as Cintiqs are replacing even our most basic tools, the pen and paper. Along with these technical and skill adaptations, entry-level designers now have to battle the realities of an economy that is trying to recover from a business climate the US has not seen since the great depression. While all of this can seem daunting to new designers, these obstacles have the potential to unveil opportunities no other entry-level industrial designer has seen in our field's history. The opportunities, I believe, lie in entrepreneurialism.

As in past generations, students of industrial design are currently equipped with skills that enable them to conceptualize and present product ideas that are understandable and make sense to manufacture. What is different from past generations is the breath of knowledge current students are being taught in class and learning on their own. On-line resources have been an overwhelming factor in gaining this knowledge. The inter-net has made it possible for designers to be experts in "just in time" knowledge gathering. They are at home with Skype-like communication technologies that enable them to inexpensively collaborate across town or around the world. This generation is also deep into social networking and the self-promotional capabilities it offers.

While this information is really nothing new, how one chooses to it has the potential to be a significant stimulus for change in our profession. This change comes in the opportunities designers have when entering a career in industrial design. While traditional design positions will still be there the opportunities for starting ones own venture are becoming an opportunity worth investigating. This line of thought might seem intriguing but how does one do it? Most design schools are organized to prepare students for finding employment with an employer not working for oneself.