3rd Annual Design Night Out Join Rem D Koolhaus of United Nude and Janne Kyttanen of 3D Systems at the United Nude Flaship store on 25 Bond Street, NY. <
The Made In NYC business-to-business database provides descriptions, links, and contact information for hundreds of products manufactured in New York City.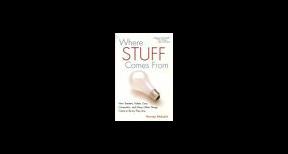 This is a "heads up" for my book based on several years doing field work on product designers and related topics. It's called WHERE STUFF COMES FROM. My hope is that designers themselves will enjoy it and find in it the ring of truth.
Rowena Reed Kostellow and the Structure of Visual Relationships, outlines a set of lessons for creating and understanding abstract three-dimensional design that became a part of that foundation of industrial design education. Rowena...
This book, which accompanies a nationally touring exhibition, documents Irvin Tepper's 25-year exploration of the physical and conceptual idea of the coffee cup. For Tepper, the cup is the recipient of our stories and personal...
Using design as a strategic tool to pump up the business side of things is no secret these days and the California College of Arts has made it easier than ever to start 'em young. CCA will offer an MBA in Design Strategy starting in...
Call for Papers: International Journal of Design
Furnishings Manufacturers and Suppliers, Get your specified products published! Network with designers and architects specifying your products by getting them published in Design Journal! If your products have been featured in a...