On Aug. 24, 2013, 80 leading designers, along with STEM (science, technology, engineering, math) and design educators from around the world, connected in real time through Skype for a first of its kind linked workshop.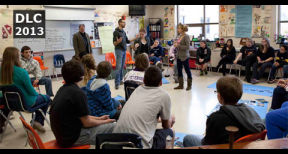 In partnership with the Industrial Designers Society of America and National Art Education Association during the 2012-2013 school year, the Design Learning Network challenged K-12 educators and their students to explore a world of...
On April 25, 2013, an article was posted on NPR Network Member, MindShift KQED's website blog: "A Design Challenge to Students: Solve a Real-World Problem!" MindShift's focus is on exploring the future of learning in all its dimensions –...
Last week the IDSA K12 Design Education Initiative hit the big lights in Fort Worth, TX, at the 2013 NAEA National Convention—the world's largest art education event of its kind!
With the generous support of our partners, sponsors and supporters IDSA was able to put on the first IDSA K12 Design Education Symposium. This event, which took place November 9-10 in Dearborn, Michigan, was a huge success. K-12 teachers,...
It has been said – if your cup is half full, you are thought of as an optimist, but if your cup is half empty, you are looked upon as a pessimist. If you happen to be an engineer, perhaps you'd view the cup as twice as large as it should...
In partnership with the National Art Education Association (NAEA), a highly interactive IDSA K12 Design Education Initiative workshop took place at the Westin Boston Waterfront Hotel during IDSA's 2012 International Conference.
Creative Thinkers, Innovative Outcomes This highly interactive IDSA K-12 Design Education Initiative workshop will take place at the Westin Boston Waterfront Hotel simultaneously with the IDSA 2012 International Conference. Thursday,...
The following blog entries represent a telling story as written by a K-12 educator who participated in the IDSA Design Learning Challenge 2012. Garreth Heidt, a middle school humanities teacher at Perkiomen Valley Middle School East,...
The spring 2012 Creative Expressions humanities class at Perkiomen Valley Middle School East (teachers Garreth Heidt, Kathy Todd, Shannon Mullowney, and Briana Pittari) introduced seventh graders to design thinking, the design process and...
It seems that the National Art Education Association's professional development event, SummerVision DC, is filling up fast. The event was divided into two sessions, and one is already sold out. The remaining session runs July 10-13. So if...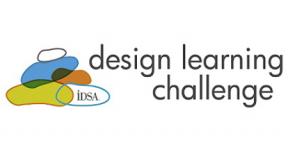 As part of IDSA's on-going efforts to connect design to the K-12 education system, we have just successfully concluded the 2012 IDSA Design Learning Challenge. All participants in this year's challenge did an excellent job. A few...
Design Learning For Tomorrow - Design Education From Kindergarten to PhD.
The capacity to innovate is directly linked to a designer's ability to continuously "learn, think, do," a phrase coined by JohnPaul Kusz, FIDSA. These foundational elements are prerequisites to the design process and, most significantly,...
By Doris Wells-Papanek, IDSA
New Off-site Education Space!Opening on May 12, the Cooper-Hewitt Design Center offers free programming for students, families, educators and adults. This new space complements Cooper-Hewitt's Design in the Classroom program, an ongoing...
The National Art Education Association (NAEA) National Convention is the world's largest art education convention. It is designed to advance knowledge in all sessions, events, and activities for the purpose of improving visual arts...
Three years ago in Texas, Irving High School not only lacked an industrial design program; it had no design or engineering classes. It had no shop class. Then Jared Vanscoder accepted his first-year teaching position. Spurred by his...
The time has come to integrate design into the skill set of 21st century students.
February 24, 2012 The 2012 Jefferson Award goes to Professor Martin Linder, an associate professor in Design and Industry, whose leadership and mentoring in industrial and graphic design reaches more than 160 elementary to college-aged...
in