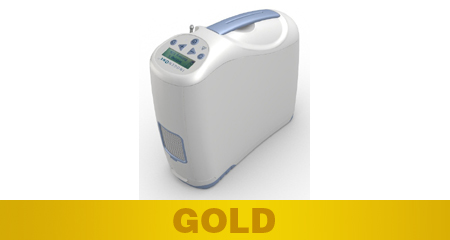 The Inogen One delivers freedom and mobility to oxygen patients. It was designed to be used everyday, all day, all night and for travel, becoming an intimate part of a patients' lives.
Prior to Inogen One, the oxygen therapy market wasn't regarded as technologically advanced. Although devices fulfilled therapeutic functions, the benefits derived from oxygen therapy did not always outweigh the challenges. When placed on oxygen therapy, patients frequently loose mobility, the ability to lead an active life and the ability to travel on commercial airlines with their oxygen equipment—in short, they experience significant and disruptive changes in their lifestyles.
The industrial design was one of the most important aspects of the Inogen One. Several factors were considered in the design, including a friendly user interface that is especially geared to the elderly, quiet acoustics, a removable battery, a collapsing handle, overall ergonomics, and portability, durability and wearability. Every aspect of the product has a strong emphasis on the interface with the patient. Several focus groups, user evaluations and other feedback methods were used to confirm that the industrial design decisions were effective. In summary, this device goes with patients wherever they go, supporting their lifestyle choices instead of hampering them.
The Inogen One is a non-delivery oxygen technology. Typical oxygen cylinders or liquid oxygen dewars require weekly deliveries to patients' homes. Since the Inogen One concentrates oxygen from the ambient air, no deliveries are required. Further, it uses approximately the same energy as a 60W light bulb, nearly 85 percent less electricity than stationary oxygen concentrators. Plus, since it does not require any refilling, Inogen One customers save $140 per month compared to liquid oxygen users, in addition to saving hundreds of dollars per year on electricity costs when compared to standard stationary concentrators. These savings are significant for patients who are on fixed incomes.
Credit: Brenton Taylor, John Stump, Patrick Burgess, Pete Hansen, Mike Pollack, Greg Muscolino and Eric Dahlke of Inogen, Inc.
Contact: John Stump: jstump@inogen.net