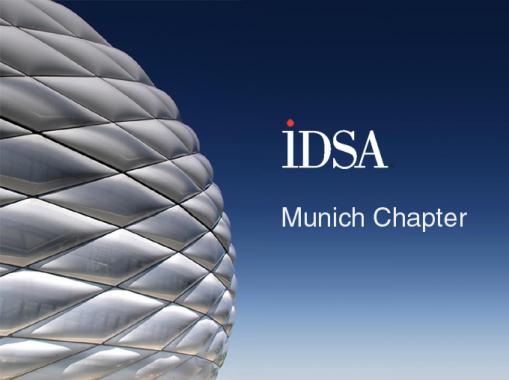 IDSA has opened its first professional European Chapter, IDSA's Munich Chapter in Germany this month. We welcome all the founding members and look forward to some great interactions across the "pond" as we continue to bring designers together from around the globe. IDSA's international membership continues to grow.
"We are thrilled and honored that the benefits that IDSA has to offer which help glue a design community together—to provide opportunities to physically network, publish, learn and present—are going to be available to industrial designers in Germany as well," said Clive Roux, IDSA, CEO of IDSA.
Why Munich?
Munich is the melting pot of European design and after London is the most important center for industrial design in Europe. Martin Langkau, our new Munich Chapter Chair explained why IDSA needs a Munich Chapter and the IDSA Board agreed. View the great presentation that Martin put together for us to support their request. You can download and view the PDF below.
"I really appreciate Martin's initiative in building the Munich Chapter, and look forward to working with him and the rest of the Chapter leadership team." said Julie Heard, IDSA of the Mixer Group in Austin, Texas who is the Chapter VP for IDSA, "All it takes to create an International Chapter is 20 paid members, three of which are prepared to serve as the first officers of the chapter and a submission requesting the formation of the chapter."
Follow the 20 founding members of IDSA Munich Chapter and get connected with the international IDSA community. Read the article Become a Member | Benefits for further information on IDSA and how to join.
in