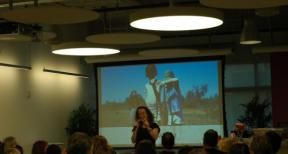 It's a quarter to six, Tuesday, May 7, 2013. I'm at the Financial Engines headquarters in Sunnyvale, pouring wine and...
Paul Hatch, IDSA | president, TEAMS Design
CALL FOR EDUCATION PAPERS – 2013 INTERNATIONAL CONFERENCE
IDSA 2013 International Conference Chicago | Aug. 21-24 BREAKING THE RULES To create...
Q: What do Design, Revitalizing, New Paradigms, Color, Ecosystems, Entrepreneurs and April 2013 have in common? A: IDSA...
Mark your calendars for Cooper-Hewitt's National Design Week, Oct. 13-21, 2012! The event draws national...
A big thanks to the app sponsors, Eastman Innovation Labs and Ximedica. We couldn't have done it without you.
We caught up with poster contest winner Kerstin Strom, IDSA and asked her a few questions about her winning...
This husband and wife team and 2012 IDSA International Conference keynotes, Mike Simonian and Maaike Evers, have...
Thinking about sending some of your team to IDSA's 2012 International Conference in Boston Aug. 15-18? Maybe your staff...