On Aug. 24, 2013, 80 leading designers, along with STEM (science, technology, engineering, math) and design educators...
The first Women in Industrial Design Show, sponsored by WID of IDSA, is coming to the Bay Area in June 2014 as part of...
IDSA Executive Director Daniel Martinage, CAE continued his tour of college campuses with a two-day visit in November...
The Design Futures Council—via Design Intelligence—has once again published the findings of their survey on how...
More than 400 design students, practitioners and educators gathered at the Rochester Institute of Technology Oct. 18-20...
Connect. Learn. Succeed. Introducing the next, interactive webinar in IDSA's Design Success Webinar Series. Join Angela...
Here's the scene: 60 students from five design programs trek to a patch of land in northern Alabama that stretches for...
Connect. Learn. Succeed. New Benefit For IDSA Members Continued learning and networking are the hallmarks of...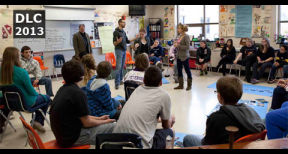 In partnership with the Industrial Designers Society of America and National Art Education Association during the 2012-...
SHIFT is an outdoor design camp for the maker in all of us. SHIFT aims to reframe the routine of our daily lives as...