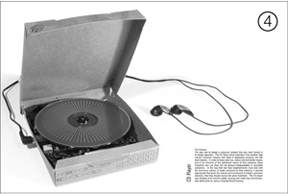 Resistance through Form
Craig Badke, MEDes, and Stuart Walker, PhD, IDSA Faculty of Environmental Design | University of Calgary, Canada
Introduction
"The goals of sustainability can be expressed in two very general principles, learning to live better consuming less while regenerating the quality of the environment." (Manzini 2004)
There are many obstacles to implementing sustainable design solutions. Paramount among these is a required cultural shift in thinking away from consumerism and toward sustainability (Manzini 2004). Dissident Design is an attempt to facilitate such a shift. It is at the intersection of product conception and consumption that designers as experts in material culture can play a vital role in the way goods are produced, perceived, and consumed. Dissident Design uses design as an instrument of critical inquiry and commentary to question the current system of the massconsumption of highly marketed consumer-driven goods.
Dissident Design, originally part of a larger master's design project (Badke 2004), was developed as a means to investigate, critique, and raise awareness about issues surrounding contemporary consumer culture and design's role within it. The writings and design investigations that constitute the original project cover a wide range of issues connected to material culture, from the individual and social drives behind consumerism, to economic and political control structures, through to issues pertaining to professional design practice. The project was aimed at bringing each of these fragments together to begin building a wider context in which to place and discuss the role of design in the cycle of consumerism, the contribution of design to problems inherent in overconsumption, and the potential for design to mitigate some of those problems.
This paper will summarize some of the main points of Dissident Design. Specifically, it will focus on introducing the rational behind the development of Dissident Design. It will also explore how the ideas and principles discussed in Dissident Design can inform a powerful and positive future role for the design community as an agent of change.