The Innovation Housewares Mixer was a huge success, with a turnout of over 100 design professionals. Big thanks go out...
Special thanks to everyone who attended this year's Housewares Innovation Mixer.
May 14-15, 2013Venue SIX10, Spertus Institute610 S Michigan Ave Chicago, IL 60605The nature of healthcare,...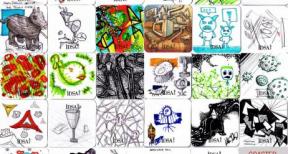 IDSA Chicago would like to thank everyone who attended the IDSA Chicago Annual Holiday Party, hosted by The Bedford. We...
Open HouseWednesday, February 6 2013 6 p.m. – 8 p.m.IIT Institute of Design350 N. LaSalle St., Chicago6th FloorRSVP:...
IDSA Chicago would like to thank all who attended last week's Pumpkin Carving event at Radius Product Development. We...
Apple v. Samsung: Design Patents Take Center Stage Special guest speaker Christopher V. Carani Partner and shareholder...
October 9-10, 2012Spertus Institute, Chicago, Illinois