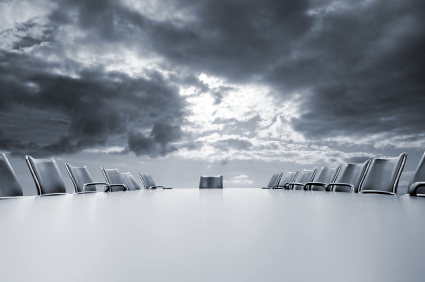 More than 50 years ago Raymond Loewy, FIDSA had influence with the CEO's and US presidents, advising the administration and redesigning Air Force One for President John F. Kennedy. Influence does not go much higher than the president, but despite these promising beginnings the industrial design profession is still trying to get a seat at the corporate boardroom table. Marketing and IT achieved it in a shorter time and with broader acceptance than design. I doubt that even today, the government has an idea of what design means or what it can do.
What went differently for marketing and IT? It is interesting that both professions relied heavily on quantification in order to get in the boardroom. An idea that Design has been loath to do, straddling as it does, the arts, engineering, marketing and entrepreneurship. More importantly is the question: "Are we still at the beginning or just turning the page into chapter two as we witness some major changes at the top of corporate design departments?"
These are exciting times to be in design. For example, with China moving its centrally controlled economy from a factory to a service-based economy, to the democratization of production tools, access to consumer data and opinions through social media and the launch of venture finance on platforms such as Quirky and Kickstarter.
Design consultancies have always received the lion's share of design publicity. By definition they have had the motivation to tell their story whereas a corporate design department often has had to succumb to its masters, the brand, marketing, development or research department in the past 50 years, leaving the story of their successes largely untold or hidden in the brand stories. However, any corporate designer knows that the successes, the influence and the breakthroughs that have been made in the design departments are immense, and I would hazard to say quite possibly eclipse what the consulting world has achieved in terms of moving the bar forward in product design. For more information on these successful stories, read IDSA's Catalyst Design Case Studies.
This article, however, is about corporate design and is an appeal to corporate designers to join us to accelerate our progress as a profession into the boardroom. Last week's announcement at Philips Design that Stefano Marzano, a corporate design icon, (disclosure: I worked for Stefano for 15 years) will retire this November signals the latest change in corporate design. Changes at the top of six corporate design icons, Whirlpool, HP, Philips, GE, BMW and P&G, over the past few years, are nothing short of seismic for a profession as small as ours. What is going on at these corporations and is it good news or bad news for design?
Today, I am more positive than I've ever been about design's prospects. However, I am definitely concerned by these corporate changes and what is required to fill these high level positions. Tom Hirsh, IDSA has said that today it is not enough to simply understand the product creation process and be able to drive innovation for a corporation. You also need to steer user interaction and consumer experience and you need to understand how to bring all of these together into digital eco systems.
On the plus side, there is more written about design today than ever, even though searching for the term "industrial design" peaked in 2004-2005 and is only at a level of about 37 percent of that high today, according to Google. This could either mean that there is broader knowledge and recognition for industrial design today or it could mean that it is less topical. I tend to believe it is the former. Why? Because search for design research (how to quantify design and how to create a more scientific input to the design process has been growing exponentially over the past few years and has now overtaken the searches for industrial design. This would suggest a maturing of the profession and possibly a move to its next phase as a quantifiable corporate competence.
There is more recognition for the importance and value of design today than ever before. Designers are involved at levels and across a breadth of corporate and social problems that is unparalleled in history. More corporate CEOs are professing to support design than we have ever seen before, but is it simply lip service or is it real? I think that design is growing a broader base within companies than just the CEO, but the CEO remains the key to our success as a profession—still. At the heart of this, is the question whether the changes in corporate design departments are good or bad.
In almost every case there was a change in the CEO. Is this why there was a change in the corporate design leader? It is a valid and concerning question. If so, it points to the fact that because design has not secured its rightful position in the boardroom, it might now suffer structural setbacks that push us back down the corporate ladder and put us in the position of having to claw our way back to relevance and acceptance. Is this what has happened or is it just a natural changing of the guard? I think the former may be true. There is enough anecdotal evidence from at least three of the companies and a strong likelihood from the fourth for me to feel a strong, though unsubstantiated suspicion that design has taken a step backwards.
I think we would all like the new leaders of these corporations to come forth with some facts because speculation is running fairly high and as a profession, we need their leadership and to understand how they are making progress still. What has come out of the 300+ person design team at P&G in the past two to three years that is more innovative? Have our household products improved much in the past 4-5 years? What about our household white goods? In recent years, some big names and strong designers have left Whirlpool Corp. Are we using less water, polluting less or making any other progress in the kitchen versus 5 years ago? The same applies to HP. Their products are certainly more coordinated than before, but what are they doing with innovation? These companies contained design leaders who were making strong progress towards the boardrooms for our profession. Are their replacements on the same trajectory or has the bar been reset by changing the top? I hear and see evidence for both cases. What should we make of the recent departure of Sam Lucente, IDSA and Sean Carney from HP? What should we make of the move of Carney to Philips Design? How about Chuck Jones, FIDSA, Philip Thompson and Tania Aldous from Whirlpool? From what I hear, these corporate changes are not over yet. The sands of corporate design and design management, with the announcement that Tom Lockwood is leaving DMI, are shifting quite rapidly today. Are we gaining ground or losing ground with this changeover? I'm not confident that we have gained ground in the past few years with these changes in corporate design leadership. We heard from Claudia Kotcha a lot and rightfully so as she was paving the way bravely and furiously, but what are we hearing from Phil Duncan? Are we just painting the brand all over everything or can we expect to see P&G's design group innovate?
With design thinking, it is unclear if we have gone the wrong way or made major strides in the right direction. Design thinking seems to resonate with business – at the very least from a consultant's point of view. By describing what we do as totally different from the way that business thinks, we have developed a real way to acknowledge and provide a framework for our differences to be accepted into the rigid and quantified (at least on the surface) environment of big business.
But have we really done it this time? Now we have acknowledged that we are not the same and even think differently. Have we created an amazing platform from which we can dive deep into the boardroom or have we buried ourselves into a corner that will stall us for even longer and keep us in a trusted consultant position to be brought in occasionally to deal with problems corporations don't think they can do on their own. Or brought in to "provide a different point of view" but definitely not capable of understanding or dealing with business and therefore having no rightful seat at the table as is the case with advertising? I sincerely hope not as I know from my own past corporate experience that design is a core competency that business cannot do without to be competitive today. Umm, China has even written outright support to grow the creative industries and that has come to mean industrial design in particular into their central governments five-year plan and has been pumping billions into its development in the past 10 years.
Only time will tell where we are and if design thinking will help or hinder us. The good news is that we are now probably through the hype bump of the Gartner Hype curve when it comes to design thinking and that Bruce Nussbaum, H/IDSA is likely incorrect in his assumption that the term and idea are dead. Far from it, it is now just starting to go into the second phase where the curve rises much slower based on steady and realistic progress from people working to create real results that can gradually build the case for design thinking as a core business competence. Sure from the journalist's point of view the exciting hype is over. Thank you for the push, Bruce. Now it is up to us to grow the discipline and case studies around it.
This is one of the places where we have gone wrong over the past 20-30 years. It is one of the biggest weaknesses in industrial design today. We have not honed our business skills sufficiently to win the respect and confidence of the boardroom. There are only a few corporate design officers around and those that exist are hardly able to help their companies use design in leading roles. Apple stands alone in that respect. Nike has some traction and perhaps even Ford is making more progress than we give it credit!
This leads us to another issue for the design profession. When CEOs understand and believe in the value of design, these companies do amazing things. Think of companies from Apple to Herman Miller, Method to Nike, Crown and even P&G a few years ago with the Laffley/Kotcha partnership. The design and CEO partnership is vital for design to win. But these partnerships are few and far between and the changes in the CEO position at P&G, HP, Philips and Whirlpool and the resulting flux in their design departments should be a significant warning bell to us all!
Unless we can get design written into the structure of the corporation at the very top, in the boardroom, we are always going to operate on the extremely delicate availability of CEO believers. And, given CEO turnover that is not something we should bank on!
How can we do this? We need a framework to describe design's value in terms of efficiency and business competitiveness that will allow a whole generation of corporate designers to discuss and win bigger chunks of the scarce resources of people and money in corporations versus our counterparts in marketing, IT, development and R&D.
Look no further than the Super Bowl for a nice little laugh at ourselves, but then please realize the irony in this story and understand that we have GOT to act to change it. The average 30-second Super Bowl ad this year cost roughly 5-10 times the cost of the design project that created the proposition in the first place. No kidding! We are not even worth 10-20 percent of a commercial? In fact if you take the roughly 3,500 seconds of advertising or 56 minutes in the Super Bowl, it represented about 20 percent of the spending on industrial design for one year in the US. Go ahead, take a cold shower, cry if you must! But when you get over it, please note this is nobody's fault but ours. We have had the same if not better opportunities to advance our profession as all the other disciplines that have made it to the boardroom table in the past fifty years. This is true even though what we do has at least the same if not more influence (as we are the ones defining the cost through our designs) on the resource allocations in development costs, tooling and the following $3 million ads required to sell average or even poor propositions as any other profession. Better design equals better products that are more efficient to make, better differentiated to make easier choices for consumers and propositions that are more in tune with what consumers want and therefore DON'T require half as much advertising to push through expensive marketing channels like TV.
Would it be fair to say we have so far had strong leadership, but not that much depth when it comes to corporate designs leadership and ability to influence the companies they represent? Certainly there is a grain of truth in this somewhat over simplified observation. My first proof point would be the striking silence and lack of action that followed Bruce Nussbaum's call to action in Business Week in 2005 where he made a rally call to designers to step up and take our seats at the table.
Designers generally lack business knowledge, experience and a will to deal with the hard issues that business challenges possess. Seeing these often as someone else's challenge, when in fact the best designers and design leaders have always been more than willing to tackle these issues and for that reason, we know their names.
Sadly, it is still true today that a majority of Americans are still oblivious to the fact that there is a profession responsible for creating the products and services that they use every day, that have a profound influence on improving the quality of their lives or adding to their trash output. It is our responsibility as a profession to tackle this problem. IDSA shares blame for not having achieved this already. We have lost 10 years and need to ramp up our progress towards better corporate communications and promoting the understanding of industrial design amongst the general public. Unfortunately, Business Week's innovation team that drove industrial design to its peak is no longer there as the publication turns its attention to the intersection of politics and business (a sure source of value creation? I think not!) Fast Company magazine writes a lot about design, but is it more sensational than containing depth and proof points to show design's value? Possibly.
If we want widespread awareness of design among the US population, we have to start with the K-12 system to ensure that all kids leaving school know what design is as they start their professional lives as practicing CEO's, marketing professionals, etc. Students leaving the K-12 school system should have a fundamental understanding and hopefully working knowledge of what design is, how it works and what it can do for the world. IDSA has started a project with Scott Stropkay and Doris Wells Papanek to start heading down the long road to make this a reality.
"Designers need to be trusted and (treated) as equals by CEOs," says the Swiss-born industrial designer, Yves Béhar, IDSA. "Unless they're elevated to a point where they are peers to people in marketing, good design will not happen." Béhar said this in a March 17, 2011, Wall Street Journal article. It is what many believe but have not publically said to the business community. Of course, elevated doesn't mean we have some god given right to be there. It means that we, as professionals, have to work to get ourselves into this position by helping the CEO and everyone else in the company understand the value and importance of industrial design in creating value for their company through measurements of ROI and case studies.
Design needs to be able to present its case in a way that business can understand and take action on. This is not to ignore the fundamental creative act that underlies design and should never be subjected to quantification. Boards know we create great stuff. They are convinced they need us, but arguing why they should take on another 10 designers instead of another 10 engineers, marketers, researchers or IT people can be an extremely daunting task, never mind tackling the task of having to take away 10 other employees to ramp up design. If all we have to offer is that you should do it because we really do think differently and more of that different thinking might just be the right thing to solve more of your problems! The role of explaining design's point of difference, might best be played by consultants, but the role of understanding how design fits in and the effect that it has internally to a company is certainly the role of corporate designers. With this in mind, IDSA, DMI and Sam Lucente, IDSA have set out to develop a broadly accepted Design Value Matrix for the profession to use. The original work, produced by Lucente, HP and Jump Associates, will be available for use under a common good license and will be further developed in a workshop at IDSA's 2011 International Conference on Sept. 14, 2011. If you are interested in joining and sponsoring the activity, please contact me at execdir@idsa.org
To comment on this article, please log in to the website using your membership log in details.