Propeller and 3D Systems will be hosting a show and tell talk on Wednesday the 18th and you're invited.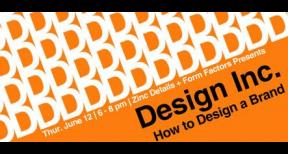 Zinc Details and FormFactorsSF Present Lively Panel "How To Design A Brand"
We are taking San Francisco Design Week to the streets!
A woman's touch is no longer a rarity in tech, product and furniture designs. The first IDSA-sponsored Women in Industrial Design Show on June 14 invites you to celebrate the emerging and established women in industrial design from...
If you're into biking, San Francisco is the place to be. The Bay Area is a historical epicenter of bicycle culture, but during the next several weeks IDSA's local chapter is putting the biking Bay on the map. In collaboration with the...
We have gathered this collection of books on topics of interest to the industrial design community for the edification and pleasure of members and other visitors to the IDSA website. If we have overlooked a particularly worthwhile book,...