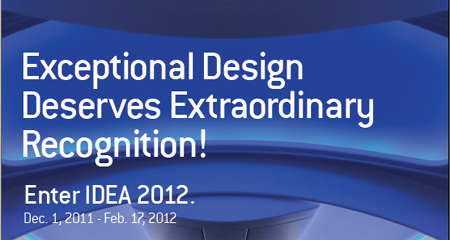 "Great design begins and ends with a deep understanding of people's innermost needs and desires with a responsibility to society. When designers are successful at this, it creates tremendous economic value and makes life and the world a better place."
Davin Stowell.
CEO, Smart Design
IDEA 2011 Jury Chair


We live in a global community with unique challenges and opportunities in which great design is uniquely positioned to improve daily life and experiences. Design touches people every minute of every day. It shapes the world, experience and daily lives. Great design envisions, reinvents and creates the future we WANT rather than the one we are handed.
Too often the sheer quantity of stuff with little positive value overshadows true quality and vision. But, there is no substitute for greatness.
So the International Design Excellence Awards (IDEA), is searching world-wide for the best of the best—exceptional design that epitomizes quality across design mediums and platforms. IDEA 2012 opens for entries Dec. 1, and we invite you to join us! Check out new entry categories, including Digital Design, Service Design, Social Impact Design, Bathrooms, Spas and Wellness, Gardens and Outdoor, Kitchens, and Living Room and Bedroom. Enter your exceptional design and help IDEA 2012 share the best examples of design insight, talent, passion, innovation and design excellence with media, business, consumers and end users worldwide.
Why participate in IDEA 2012?
In the field of design there are many rankings and a growing number of design competitions and would-be designators of "the best." While imitation may be the highest form of flattery, only IDEA, is known as "the Oscars of Design." Over 32 consecutive years, IDEA has maintained and honed its well-deserved reputation for being the preeminent international design competition.
IDEA winners worldwide are held up as shining examples of great design uniquely capable of influencing the world around us and shaping the future. They represent a who's who of design greatness.
With its storied history, impartial jurying process, international pool of exceptional entrants, expert jurors, breadth of categories and forward-thinking criteria, IDEA 2012 is uniquely positioned to shine a spotlight on design genius.
Download our new 11'x17" IDEA poster to share with colleagues in your office or classroom.
Get Started with your 2012 entry